I am back from ABA Techshow,  where I had a great time, as usual. This was the first year I have spoken at Techshow and I was fortunate enough to be speaking with Nerino Petro and Chad Burton. Both of these gentlemen were great to work with and I look forward to (hopefully) speaking with them again.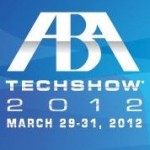 I also had the pleasure of hosting a Taste of Techshow dinner with Chad and Stephanie Kimbro. We ended up having 13 people at our table (instead of 10), but it all worked out great and we all had a great time. Not only did I enjoy the company of Stephanie and Chad, but everyone else who had dinner with us was a true pleasure to meet and dine with.
The Expo Hall was the largest I have ever seen, with a large number of different vendors. Not only did I get to see some vendors I have know for years (such as Phil Rosenthal from Fastcase and Ken Adams from Koncision Contract Automation), I also finally got to meet Brett Owens from Chrometa in person. He was as great in person as I expected.
I also saw a couple of new products that really interested me. The first is TheFormTool. This is a reasonably priced document assembly program that looks easy to use.
The second is iTimeKeep by Bellefield. The program is designed to allow you to enter time from your iPad and it integrates with your time and billing system, so that you can do remote time entry, even is that is not otherwise available for your time and billing program. I have been looking for a program that does this. So I will definitely be checking this out further.
I have lots more to say about Techshow, including a review of the Techshow app and the keynote from Ben Stein, all of which will be coming later this week.
---